This year Kensington North Watersheds Association has received funding through the Wildlife Conservation Fund for two projects! The first project is focused on monitoring river otters, and if you would like more information, you can check out the "News" section of our website (www.knwsa.ca). The second project focuses on improving wildlife habitat in three watersheds in our area: Oyster Creek watershed in Hamilton, Shipyard River watershed also in Hamilton, and Eel Creek watershed in Burlington. Staff have performed some stream work in the past few years in Shipyard River, as well as some tree planting in both Shipyard River and Eel Creek, but this project will allow us to perform more intensive habitat restoration work.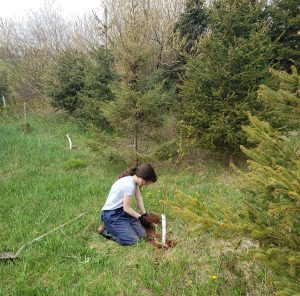 Staff began working on this project by first completing riparian and stream health assessments. These assessments involve staff walking along the stream and noting various habitat features such as the presence or absence of invasive species, the amount of forest and canopy cover, the composition of stream substrate, whether there are any perched culverts, and many other important features. Performing these assessments gives us an idea of the challenges facing each system and allows us to better plan for the habitat restoration work we will be completing.
After completing stream assessments for this project, staff began to perform habitat restoration work including tree planting and stream maintenance. So far, staff have planted over 300 native trees and shrubs in all three of the targeted watersheds. Having a forested riparian zone provides numerous benefits to wildlife, such as providing shade and cooling the water for fish, providing food and habitat for birds and mammals, and stabilizing the streambanks, thereby preventing erosion. If needed, we install tree guards to protect hardwoods from herbivore damage, and we cut back any tall grasses or weeds around the trees. We also plan to perform regular maintenance throughout the growing season to ensure the best chances of survival for the trees we have planted.
The stream work that has been completed so far has been in Eel Creek and Shipyard River watersheds. Stream work involves removing fallen trees and clearing out branches that may be catching smaller debris, while making sure not to remove too much large woody debris. If needed, staff may install brush mats made out of fir boughs. Brush mats help collect suspended sediments during high water events, removing some of the excess sediment from the stream. Another task that has been performed as part of this project includes routinely monitoring the water quality. Some water quality parameters we look at include dissolved oxygen, temperature, pH, and nitrates. Once they are available, we will upload the water quality data from this project to Atlantic DataStream for public access and visualization. Keep an eye on our social media (Facebook: Kensington North Watersheds Association and Instagram: Kensington_north_watersheds) for updates on this project!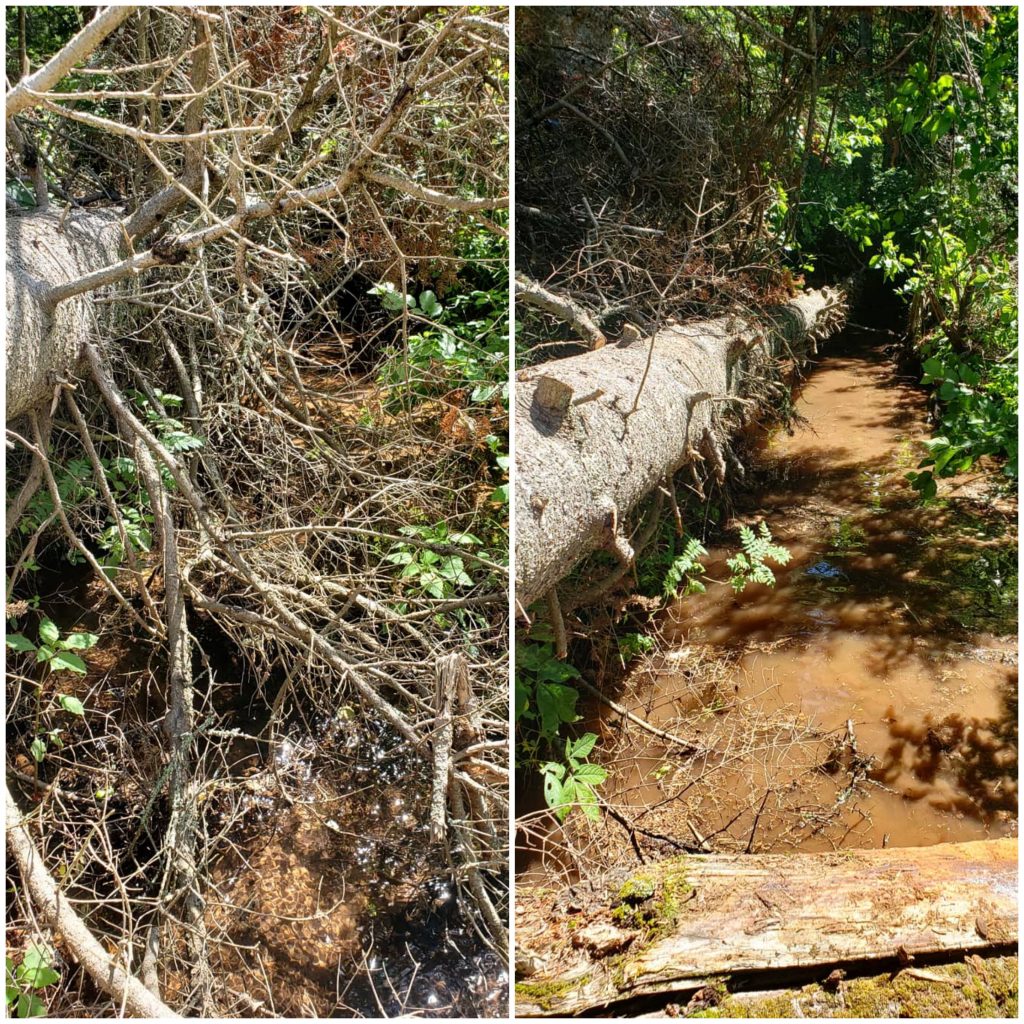 Funding for this project comes from the PEI Wildlife Conservation fund, which supports projects across PEI that benefit wildlife and wildlife conservation. Funding comes from the sale of motor vehicle conservation plates and annual conservation fees incorporated into PEI licences for hunting, angling and trapping.