Overview of Process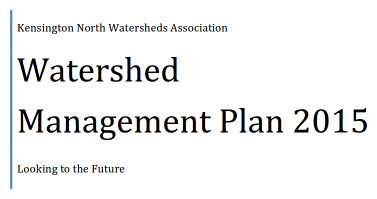 The early watershed activities that took place in Kensington North were generally in response to a local issue in the area of the individuals involved. The first groups focused on very specific target areas, e.g. stream cleaning or tree planting. There was no overarching plan for the whole area. Even after the formation of Kensington North Watershed Association in 2008, planning has generally proceeded on an ad hoc basis in response to specific issues brought to the attention of the Executive Director.
The first steps forward in the planning process took place in March 2010. A brain-storming session facilitated by Jennifer Roma set out to identify what made Kensington North unique to local residents. Small groups then reviewed Vision Statements from other watershed organizations in an attempt to find ideas that resonated with them. The groups were asked to identify the positive actions happening in the watershed and the issues that still needed attention. Groups were then asked to come up with some general goals to address the previously identified issues. Together the participants came up with a draft Vision Statement. The facilitator later produced a draft set of Goals.
In 2011, another general planning meeting and an number of district meetings were held to review the draft Vision and Goals statements and begin to formulate Objectives and Strategies that could be used to reach the Goals and realize the overall Vision for Kensington North.
In February 2012, an additional six district meeting were held to engage the community and garner additional ideas regarding Objectives and Strategies with specific attention to future timelines, i.e. identifying short, medium and long term goals.
In March 2015, the Board expanded the list of goals was to include issues around climate change. Several projects (actions) dealing with climate change issues had already been undertaken in the last two years but there was no clear Objective or Goal to which they could be applied. The addition of Goal 5 allows those projects to fit into our Watershed Management Plan.
The Watershed Management Plan document begins with descriptions of the physical, environmental, population and current land use. It goes on to describe the organisation's history, mission statement and planning activities. The document ends with the Goals, Objectives and Actions and concludes with a discussion regarding time frames.
The Association's Watershed Management Plan 2015 can be downloaded here.
Goals and Objectives (2015)
Goal 1: Improve and protect the quality of groundwater and surface water

Objective 1.1: Identify areas of concern
Objective 1.2: Continue stream enhancement projects
Objective 1.3: Protect barrier ponds
Objective 1.4: Advocate solutions to excess nutrients

Goal 2: Improve wildlife habitat and increase biodiversity

Objective 2.1: Restore stream and riparian habitat
Objective 2.2: Increase amount of forest cover
Objective 2.3: Increase amount of wetland

Goal 3: Develop and improve educational and awareness activities within the watershed

Objective 3.1: Increase Association membership by 10% per year
Objective 3.2: Enhance communication
Objective 3.3: Enhance educational opportunities for youth
Objective 3.4: Provide a forum for interchange of information
Objective 3.5: Increase visibility of watershed features in the community

Goal 4: Recognize good environmental stewardship

Objective 4.1: Recognize good agricultural stewardship
Objective 4.2: Recognize good individual stewardship

Goal 5: Carry out monitoring, mitigation and adaptation projects concerning Climate Change

Objective 5.1: Establish coastal erosion monitoring sites along the north shore of Kensington North to record and monitor changes in coastal erosion rates
Objective 5.2: Seek mitigation opportunities – assist in developing options and actions to reduce the threats that are associated with Climate Change
Objective 5.3: Foster adaptation, encouraging behavior so that our watershed community will be better suited to our changing climate