The PEI Wildlife Conservation Fund provides funding to groups across PEI for the protection and enhancement of wildlife and wildlife habitat. The funds from the Wildlife Conservation Fund come from annual license fees for hunters, anglers, and trappers, as well as the sale of conservation license plates. This year Kensington North Watersheds Association received funding from the PEI Wildlife Conservation Fund for a project to improve habitat in two of our major watersheds, Spring Valley Brook and Indian River.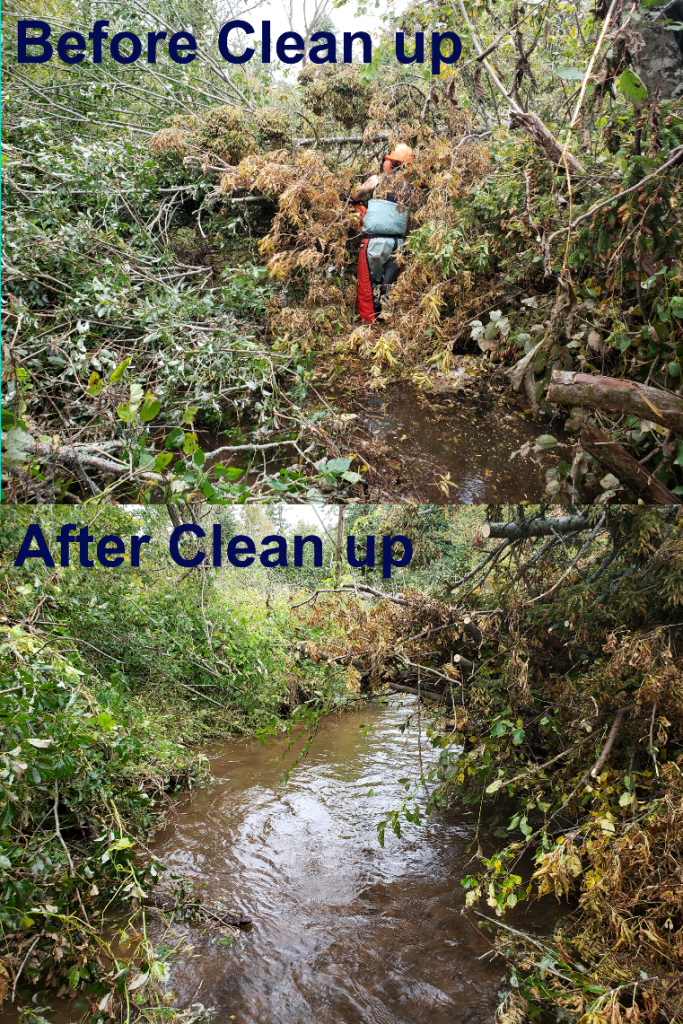 The activities performed as part of our project included planting approximately 600 native trees and shrubs along our riparian zones, removing nuisance debris and fallen trees both during the summer and again after Hurricane Dorian, and constructing brush mats. These activities will help improve riparian habitat and benefit the wildlife that live there.
By planting trees, we are increasing the shade in our riparian zones, helping stabilize the banks and preventing soil erosion, and providing more plant biodiversity for wildlife to feed on and live in. Removing excess debris and branches helps flush sediment and allows steams to flow at a more natural velocity. We also constructed brush mats by placing and securing spruce and fir boughs at strategic locations along stream banks. These structures will catch excess sediment suspended in the water during high flows, allowing the sediment to settle out on the bank instead of in the stream channel. By removing this excess sediment, we hope to maintain a rocky stream bottom in the areas where we already have it, and expose previously buried rocky bottoms in other areas of the stream. This rocky stream bottom not only provides habitat for aquatic insects, which are an important food source for brook trout, but it is also required for brook trout spawning!
Kensington North would like to thank the PEI Wildlife Conservation Fund for supporting us on this project, and we would like to encourage Islanders to consider purchasing a conservation license plate to help fund similar projects like this and help protect wildlife across PEI!
---
Published in The County Line Courier, Vol. 27, No. 23, Pg. 19.